Stroke Care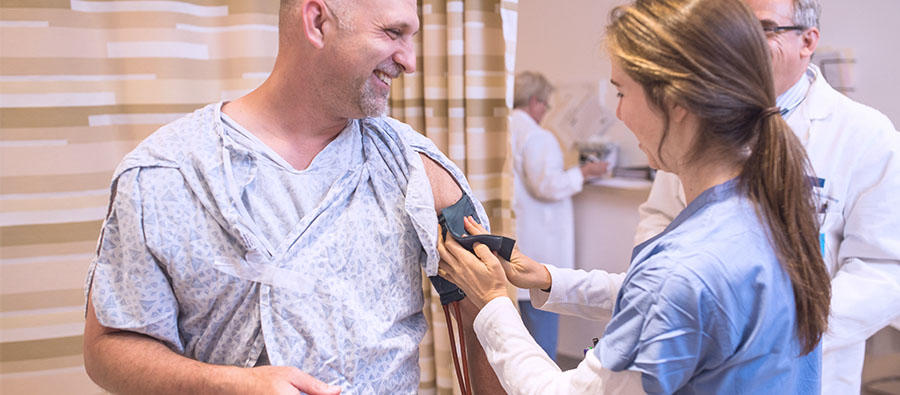 We are here to help you find what you need.

The stroke care professionals at Easton Hospital are committed to diagnosing and treating strokes quickly and efficiently, when every second counts.
According to the National Stroke Association, a stroke is the leading cause of death in the U.S., and the leading cause of serious, long-term adult disability. This year, a stroke will occur every 40 seconds and will take a life every four hours, and two million brain cells die every minute during stroke, increasing the risk of permanent brain damage, disability or death.
A stroke, or "brain attack", occurs when blood flow to an area of the brain is cut off. Without blood, brain cells are deprived of oxygen and begin to die. Receiving immediate care for a stroke is crucial. Treatments given during the first three hours after a stroke can greatly reduce or even reverse the effects of brain damage. We are your Primary Stroke Center as designated by The Joint Commission, in collaboration with the American Heart Association/American Stroke Association.
Diagnostic technology
Our stroke care team utilizes advanced testing and imaging technology to identify the type of stroke within minutes so treatment can begin as soon as possible.
Comprehensive rehabilitative care
Because recovering from a stroke can be a complex process, we offer a full range of services to promote recovery following a stroke.
Education and resources
Easton Hospital's stroke team is committed to patient education and stroke prevention strategies. We offer screening and consultations, along with information and resources to educate you and your family.
Contact our Stroke Care Coordinator.
Know the Symptoms
Confusion or difficulty speaking/understanding
Difficulty swallowing
Sudden loss of vision
Sudden numbness, weakness or paralysis of the face or on one side of the body
Sudden severe headache
Unexplained dizziness and/or loss of balance
Stroke Prevention Therapy
We now offer a new stroke prevention therapy with a newly FDA approved implant device. A life changing stroke risk treatment option for patients with atrial fibrilation, this device is a first-of-its-kind, proven alternative to long-term blood thinner medication therapy.
People with atrial fibrillation have a five times greater risk of stroke. Atrial fibrillation can cause blood to pool and form clots in an area of the heart called the left atrial appendage. This is believed to be the source of the majority of stroke-causing blood clots. Blood clots can break loose and travel in the blood stream to the brain, lungs, and other parts of the body.
The new implant device is an alternative to blood-thinning medications. The implant closes off the left atrial appendage in order to keep harmful blood clots from entering the blood stream and potentially causing a stroke. Over time, patients are often able to stop taking blood-thinners. FDA-approved in the United States, the device has been implanted in more than 10,000 patients and is approved in more than 70 countries around the world.